In the spring of 1982, Mark Walters passed out orange slices on the sidelines of the annual Boston Marathon as he cheered on the runners at mile 21. It was then, as a 22-year-old student at Boston College, that Walters first started his look at a dream.
"It was just so inspiring," said Walters, director of the Shared Materials Instrumentation Facility (SMIF) at the Pratt School of Engineering. "Before that, I had never seen a marathon live, and back in 1982 I was thinking in the back of my mind, 'One day I want to run this race.'"
But over the years, work priorities and time commitments while raising a family have put long-distance running on hold.
Now, at the age of 62, Walters has qualified for the 26.2-mile Boston Marathon, which he will run on April 18 with 30,000 others. He'll lace up his bright orange Saucony Endorphin Speed ​​shoes and do what he loves, four decades later the day after he stood a block from his apartment watching runners in 1982.
"Boston is the most famous race of all time," said Walters, who has worked at Duke for 20 years and keeps a 26.2 coffee mug in his office, which represents the number of miles in a marathon. "That's everyone's grandfather."
The journey back to Boston was not easy. In 2011, after 20 years without a regular running program, Walters agreed to a fitness consultation with LIVE FOR LIFE, Duke's employee wellness program. In that session, he shared that he was having trouble walking for more than a few minutes without catching his breath, but he wanted to run.
During the LIVE FOR LIFE consultation, the associate helped Walters put together a program that led him to run a 5k over the course of a few months while participating in the Duke Run/Walk Club.
Tim Bisantz, fitness program manager at LIVE FOR LIFE, said Walters is a perfect example of how fitness consulting or other wellness programs can help support Duke staff and faculty in their health endeavors.
"He had the inner desire," Bisantz said. "We were there to support his personal goals."
Walters began with workouts that included alternating five-minute runs and five-minute walks. He soon built up his stamina to run longer distances and pushed himself to improve day by day.
In the spring of 2012, Walters ran his first 5K through downtown Chapel Hill. He was addicted. In the fall of 2012, Walters trained and ran the City of Oaks Half Marathon in Raleigh after watching his daughter run a half marathon to celebrate graduation. In 2013 he took the next step and ran his first marathon in Myrtle Beach. Since then he has ridden 10 more, including in the mountains of Virginia and in Provo, Utah.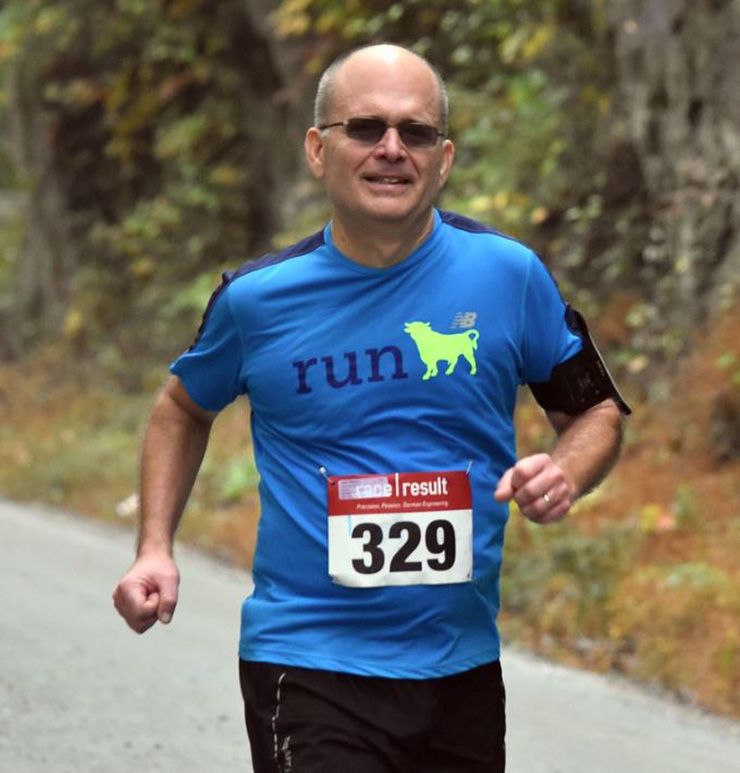 For Walters, running is an escape and a chance to take care of himself. With a history of anxiety, depression, and panic attacks, Walters writes that he runs at 5 a.m. most days before work because it has helped him feel happier and cope with stress. While running, he lets go of worries and meditates.
"Running has given me the stamina and health both physically and mentally and the serenity to handle these things better," Walters said. "Obviously I still get upset or worried, but it's not what it used to be. It doesn't hold me down."
Although he trains by listening to podcasts and The Beatles, a popular band that has taken up several spots along the wall of his on-campus office, Walters will not be listening to music on race day. Instead, as with any marathon, he will soak up the atmosphere and savor the moment as he runs through the territory where his journey began.
"It's something I dreamed of doing, but I honestly didn't think I would ever do it," Walters said. "It will be great to walk past my old neighborhood where I stood 40 years ago to watch the marathon."
Submit story ideas, shoutouts, and photos through our story idea form or email working@duke.edu.